Wedding Bands
A wedding band serves as a symbol of commitment and fidelity. It represents the promise to stand by each other's side through thick and thin, to support and cherish one another unconditionally.
DISCOVER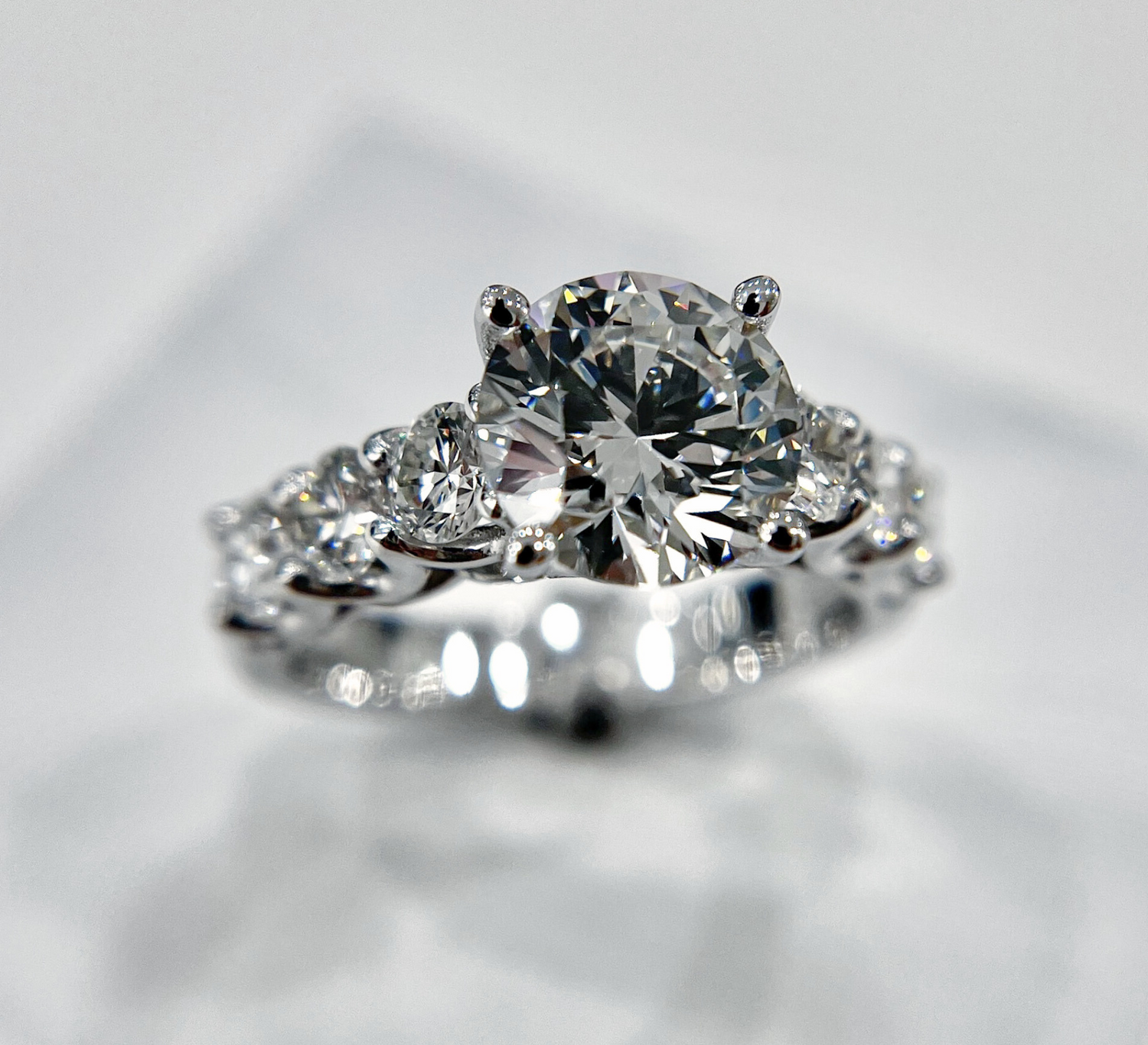 Engagement Rings
Introducing our exquisite engagement rings, the best choice to make your proposal truly unforgettable. Our engagement rings make the perfect companion, creating cherished memories that will last a lifetime.
DISCOVER
Top Questions and Answers About Jewelry
What is the difference between a lab grown diamond and a natural diamond?

There are many differences between a lab grown diamond and a natural diamond. Firstly, a lab grown diamond is exactly what it sounds like, grown in a lab. Factories are able to mass produce lab grown stones within a few weeks. Whereas natural diamonds are mined from the earth and have taken billions of years to form under very exacting conditions. No two are the same, each is unique.

Lab grown diamonds may not always be as sustainable as some claim. The process is very energy intensive. Over 60% of lab grown diamonds are mass produced in China and India where 63% and respectively 74% of grid electricity results from coal. Another misconception is that all lab grown diamonds are mining-free. Synthetic diamond processes can require graphite and metals. These materials that originate from mining are used to grow the lab created diamonds. Natural diamonds mined by De Beers Forevermark have a promise to be beautiful, rare, and most importantly, responsibly sourced. Natural diamond mining also highly benefits the countries they come from. What many people don't realize is that oftentimes local governments own part of the mining companies in their countries. This greatly benefits them and the people within the country.

Lab grown diamonds depreciate in value overtime. From 2016 to 2022, in some cases, the price of a 1.5 carat lab-grown diamond had decreased by over 74% and will continue to decrease as time goes on. A natural diamond will always hold its value over time. For years all over the industry you have been able to trade in your natural diamond for a larger stone or sell it back to the jeweler you purchased it from. With lab grown diamonds very few jewelers, if any, will take the stones back because every day you have it, the more rapidly it depreciates. 

Whether you are considering a lab grown diamond or a natural diamond, we always want our customers to be fully informed about what they are purchasing!
Why should I buy a natural diamond?

De Beers Forevermark said it best, "a diamond is forever". There is something truly special and sentimental about being able to pass down a natural diamond for future generations to enjoy just as much as you did. Even if two natural diamonds have the same grade, there is no stone exactly like the other, your natural diamond is completely unique to you. Nature took billions of years under very exacting conditions to form the brilliant natural diamond you will give the one you love. A natural diamond is older than many of the stars in the sky. It is a symbol of your eternal love with the person that means the most to you. Picking out a natural diamond seems like a daunting process but many times it is the diamond that chooses you. Because each one is so unique, it is easy to fall in love with the fire from one stone and the brilliance from another. A natural diamond will always hold its value because it is a rarity. There is no better way to say "I love you" than with a natural diamond.
How soon before I want to propose should I buy an engagement ring?

At Morton and Rudolph Jewelers, our goal is to make purchasing an engagement ring as easy of a process as possible. While it is always an option to stop in and walk out with one of the beautiful rings in our cases the same day, if you would like something more involved, more time is required. The more time we have gives us the capability to fulfill whatever desire you may have. To give us ample time, we recommend making an appointment at least two months prior to popping the question. If you are on a tight schedule, let us know and we will do absolutely everything in our power to make sure you have a ring to propose with by your desired date. At Morton and Rudolph Jewelers we pride ourselves on our attention to detail and the exquisite, high quality jewelry we create. In order to produce a quality product that we feel confident sending out the doors of our store it takes time to be done correctly. When shopping for engagement rings, we always recommend that you make an appointment so we can be certain one of our associates will be able to wait on you with no interruptions because your visit is a priority to us. Making an appointment will also allow us to make sure that we are prepared for your visit so we can help you find the perfect ring for your perfect day.
How do I get my significant other's ring size?

This is the million dollar question. One every person who wants to buy an engagement ring will have to face. You can go about this in a few ways. As simple as it sounds, the first strategy would be to directly ask your partner to get their finger sized at a jeweler. This way there won't be anything to second guess. Another option would be to get their parents or friends to have them try on their engagement rings. This will put you in a good direction to discovering their true finger size. A lot of people attempt to borrow one of their partners rings and bring it to a jeweler to figure out what size it is. This is not a foolproof way to discover their size because each finger is different. Even if they wear a ring on their ring finger on their right hand, it won't be the same size as their left hand. Traditionally your dominant hand is ¼ - ½ size larger than your nondominant hand.

While it is always best case scenario to know your partner's exact finger size, as long as you are in a good range, it's not the end of the world. If you are debating between two sizes it is always safer to go with the larger size because you want the ring to be able to go on their finger when you pop the question. In most cases, rings can always be resized! Don't let this tiny detail get in the way of one of the happiest days of your life!
Our Instagram For Your Inspiration